As a former professional golfer, I've had the pleasure of playing on countless greens throughout the United States. However, some of the most captivating and challenging golf courses that have truly left an indelible mark on me are found nestled among the breathtaking landscapes of Montana. Today, I'm excited to take you on a journey through the heart of Big Sky Country, revealing the top 10 golf courses this beautiful state has to offer.
These aren't merely venues to play golf – they are a testament to the harmonious fusion of nature and design, offering a unique and inspiring golfing experience. The courses vary in difficulty and layout, promising a thrilling adventure for golfers of all skill levels. So, whether you're a seasoned pro or an enthusiastic beginner, there's a place for you in Montana's picturesque landscapes.
1. Wilderness Club, Eureka
Voted the best golf course in Montana by Golfweek, the Wilderness Club offers an unparalleled golfing experience. This championship course was designed by the legendary golfer Nick Faldo and featured stunning mountain views, natural water features, and expansive fairways.
The Wilderness Club, Eureka, is known for its meticulous maintenance and diverse set of holes, each offering its own unique challenges and opportunities. The front nine will lure you into a false sense of security with its expansive fairways, but the back nine will challenge your precision with tighter greens and unexpected bunkers.
Notable hole: 5th hole par-3 over water
Length: 7,207 yards
2. Old Works, Anaconda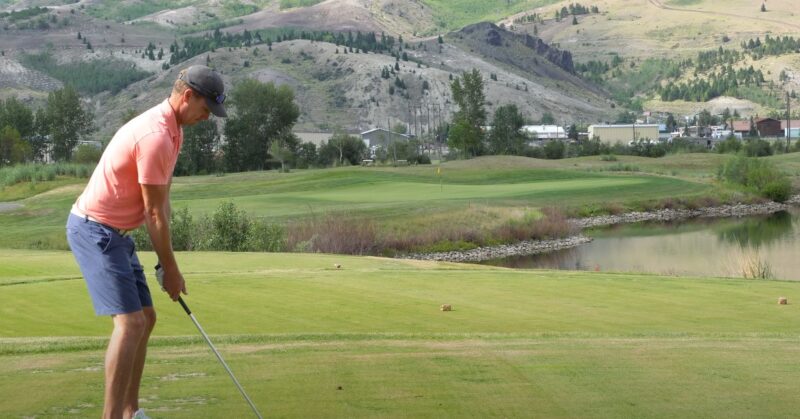 Old Works is a testament to Montana's history. As a course built on a former Superfund site, it not only preserves but also celebrates the mining history of the area. The black slag bunkers are a constant reminder of the region's industrial past, while the course layout, designed by Jack Nicklaus, caters to an exciting round of golf.
The fairways are wide and forgiving, with gentle undulations that add character without being overly punitive. The true test lies in the large, multi-tiered greens that require an astute understanding of the game and nuanced control over your clubs.
Notable hole: 17th hole, with its impressive island green
Length: 7,705 yards
3. The Stock Farm Club, Hamilton
Nestled in the Bitterroot Valley, the Stock Farm Club is a private course designed by the renowned Tom Fazio. The course features stunning views of the Bitterroot and Sapphire mountain ranges and provides an immersive experience within the wild beauty of Montana.
The Stock Farm Club challenges golfers with its well-placed bunkers and water hazards, along with varying fairway widths that demand strategic planning and execution. However, it's not just the technical challenge that makes the Stock Farm Club unique; it's also the enchanting wildlife you may encounter during your round.
Notable hole: 15th hole features breathtaking views of the Bitterroot Mountains
Length: 7,042 yards
4. Spanish Peaks Mountain Club, Big Sky
Spanish Peaks Mountain Club in Big Sky is an outstanding private course that sits high in the mountains, offering spectacular views with every shot. Designed by Tom Weiskopf, it provides a fun yet challenging golf experience.
Elevation changes, multi-tiered greens, and frequent encounters with water make this course a true test of a golfer's skill. What sets it apart, though, is the elevation – playing at an altitude affects the distance and flight of your golf ball, adding an intriguing element to the game.
Notable hole: Par-3 7th hole with an elevated tee and mountain backdrop
Length: 7,200 yards
5. The Reserve at Moonlight Basin, Big Sky
Another Big Sky gem, The Reserve at Moonlight Basin, designed by Jack Nicklaus, is touted as one of the most challenging courses in Montana. It is known for its elevation changes, demanding shot-making, and visually stunning landscapes.
With its dramatic slopes and expansive fairways, this course ensures that no two holes feel the same. The Reserve is not only a test of skill but also a testament to nature's influence on golf course design.
Notable hole: 777-yard 17th hole, one of the longest par-5s in the world
Length: 8,000 yards
6. Black Bull, Bozeman
The private course of Black Bull in Bozeman is a classic Tom Weiskopf design featuring generous fairways, challenging bunkers, and strategic water hazards. It is set in the rolling hills of Bozeman, offering a peaceful yet engaging golfing experience.
Every hole at Black Bull offers its own unique challenge, keeping the round exciting from start to finish. The undulating greens require careful study and a deft touch, making Black Bull a satisfying test for golfers of all skill levels.
Notable hole: Par-4 18th hole, with a challenging approach over water
Length: 7,200 yards
7. Iron Horse Golf Club, Whitefish
Iron Horse Golf Club is another private course designed by Tom Fazio, renowned for its design intricacies and attention to detail. It is a visual treat, with pine-covered mountains and lakes forming an awe-inspiring backdrop.
The course offers a blend of technical challenges and strategic choices, which, combined with the natural beauty, offers a golfing experience like no other. Iron Horse demands precision off the tee and creativity around the greens, making for an exciting round of golf.
Notable hole: Par-3 16th hole, with a stunning view of Whitefish Lake
Length: 6,950 yards
8. Buffalo Hill Golf Club, Kalispell
Buffalo Hill Golf Club is a beautiful public course in the heart of Kalispell. This mature course, full of character, offers a unique blend of old and new design elements, making it an exciting play for golfers of all abilities.
The course is known for its tree-lined fairways and small, tricky greens that will challenge your accuracy. Buffalo Hill provides a variety of challenges and requires careful shot planning to navigate the mature trees and water hazards successfully.
Notable hole: Par-5 6th hole, a true risk-reward opportunity
Length: 6,605 yards
9. Bridger Creek Golf Course, Bozeman
Located in the Bozeman Valley, Bridger Creek Golf Course is surrounded by stunning mountain views. It has been consistently ranked among the top golf courses in Montana for its well-maintained greens and fairways and approachable design.
Bridger Creek appeals to both beginners and seasoned players with its wide fairways and large greens. However, don't let this fool you into thinking the course is easy – it offers plenty of strategic challenges to keep you on your toes.
Notable hole: Par-4 9th hole, offering spectacular views of the Bridger Mountains
Length: 6,845 yards
10. Northern Pines Golf Club, Kalispell
Northern Pines Golf Club is an impressive semi-private course in Kalispell. This well-manicured course was designed by Andy North and Roger Packard and showcases the natural beauty of Montana, with the Stillwater River flowing through the course.
The layout is quite engaging, with well-positioned bunkers and a good mix of holes that will test both your long and short game. It's a course where strategic thinking and accuracy are rewarded over brute force, providing a fulfilling round of golf for players of all abilities.
Notable hole: Par-5 16th hole, a dogleg left with the river guarding the right
Length: 6,604 yards
While exploring the finest golf courses in Big Sky Country, don't miss the opportunity to discover the wonders of Northwest Montana on a nature vacation.
Final Words
Montana is indeed a golfer's paradise with its diverse and captivating courses. Each one, with its unique design, beautiful views, and strategic challenges, is a testament to the game's adaptability and evolution. Whether you're a seasoned golfer or someone just taking up the sport, you're bound to find a course in Montana that not only matches your skill level but also provides you with a memorable golfing experience.
While this list is not exhaustive, it offers a glimpse into some of the finest golf courses that Montana has to offer. The common thread that binds them is their respect for the game, the stunning landscapes they've been carved out from, and the unforgettable experiences they promise to all who play on them.