Welcome to Big Sky Country, where the mountains are majestic, the rivers are abundant, and fly fishing is more than just a pastime—it's our way of life. Montana's reputation as a premier fly fishing destination is well-earned, with pristine waters, abundant trout populations, and breathtaking scenery drawing anglers from around the globe.
From the camaraderie shared on drift boats to the stories exchanged around campfires, the fly fishing culture here embraces you like an old friend. It's a place where lifelong friendships are forged and where the love for this timeless sport is passed down through generations.
Get ready to be completely hooked on this place, as we delve into the thrilling world of this sport in this picturesque state.
The Rivers of Montana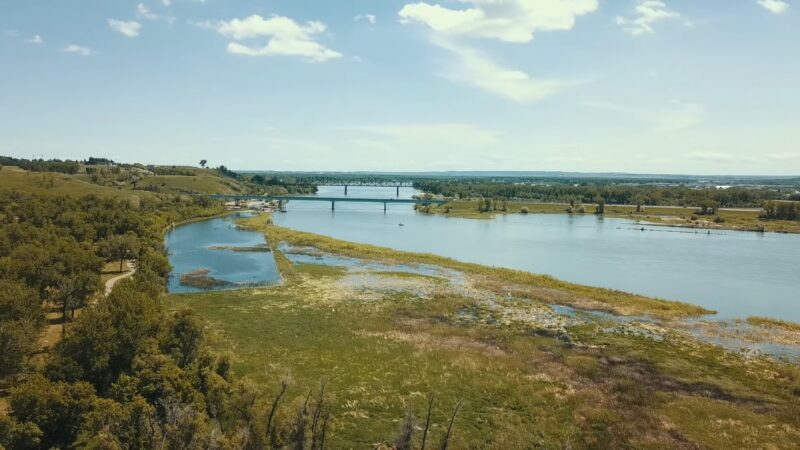 Fly fishing is primarily a river sport, and the state boasts some of the most diverse and renowned rivers in the U.S. Each river has its unique charm, character, and, of course, fish, making the state a veritable paradise for anglers.
The Yellowstone River, the longest free-flowing river in the lower 48 states, is a prime location for trout fishing. It's especially known for its Brown and Rainbow trout. Then there's the Missouri River, often referred to as the world's largest spring creek, renowned for its high trout numbers and exceptional dry fly fishing.
In the west, the Bighorn River stands as one of the most productive trout fisheries in the country, drawing fly fishers with its abundant Brown and Rainbow trout populations. Let's not forget the Madison River, a revered river amongst the angling community for its consistency, diversity of hatches, and challenging fishing that demands versatility and skill.
Abundant Trout Species
The rivers of Montana teem with various trout species, each offering unique challenges and rewards for fly fishers. Rainbow Trout are often the most sought after due to their aggressive nature and fighting spirit. Known for their acrobatic leaps and hard, drag-testing runs, they provide an exhilarating fishing experience.
Brown Trout, on the other hand, are revered for their wariness and the cunning required to catch them. They're usually found in deeper, slower water and are known for their massive size, particularly in rivers like the Big Hole and Beaverhead.
Cutthroat Trout are native to Montana and can be found in many of the state's rivers, creeks, and lakes. These beautiful fish are cherished for their vibrant coloration and the remote, scenic locations where they're often found. The state also has a healthy population of Brook Trout and, in some places, Mountain Whitefish—an underrated species that can add variety to your fly fishing adventure.
Techniques
This river sport includes a variety of techniques, each suited to different river conditions, seasons, and trout behaviors.
Dry Fly Fishing
Experience the thrill of casting delicate flies that delicately rest on the water's surface, imitating adult aquatic insects or terrestrials. Watch in awe as the trout rise to take the fly, creating unforgettable moments that fuel your passion for the sport.
Nymphing
Discover the art of presenting flies that imitate aquatic insects in their larval stage, a staple in the trout's diet. With a gentle cast upstream, allow the nymph to drift naturally with the current, enticing even the most discerning trout to strike.
Streamer Fishing
Unleash your inner predator by employing the dynamic technique of streamer fishing. Mimic baitfish or larger aquatic insects using vibrant streamer patterns. This technique shines in high water conditions or when targeting aggressive, trophy-sized trout.
Each technique possesses its own allure, intricacies, and effectiveness. All of them have their time and place, and part of the fun is learning when to use each one for maximum success.
Prime Seasons
Montana's fly fishing season runs year-round, but some times are better than others for targeting specific species or hatches. Spring, from April to June, brings prolific hatches, making it an excellent time for dry fly fishing. The weather can be unpredictable, though, and rivers can become discolored due to snowmelt.
Summer, from July to September, offers the most consistent fishing conditions. The weather is generally excellent, and the rivers are teeming with insects, which means hungry trout. This period sees hatches of Caddisflies, Pale Morning Duns (PMDs), and terrestrials like grasshoppers and beetles.
Fall, from October to November, offers serene fishing conditions, with fewer anglers on the water and beautiful autumn scenery. The Brown Trout spawn during this season, making it a prime time to catch these elusive fish.
Winter fly fishing, though challenging due to the cold, can be rewarding for hardy anglers willing to brave the conditions, with opportunities to catch Rainbow and Brown Trout on nymphs.
Gear and Equipment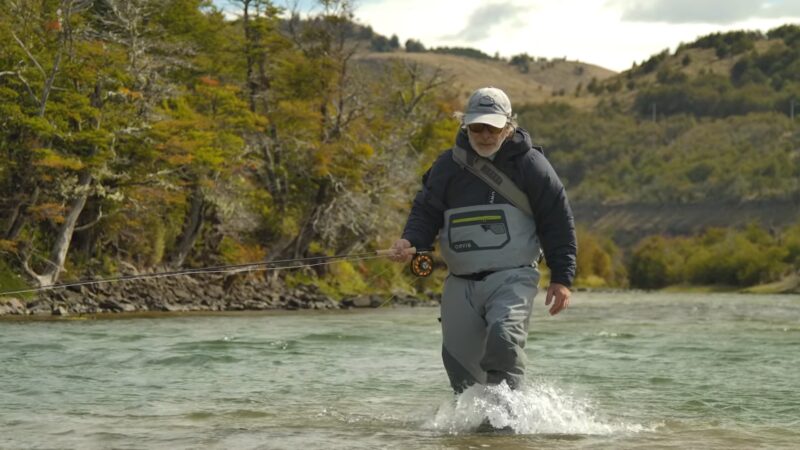 When planning a fishing trip to Montana, having the right gear and equipment is crucial. For most of the rivers, a 9-foot, 5-weight or 6-weight fly rod is ideal. This size provides enough versatility to handle a variety of fish sizes and fishing techniques.
Fly line and leaders are next on the list. A weight-forward floating line is the most versatile and suitable for various situations. Pair it with a 9-foot leader tapered down to 4X or 5X, and you're set for most dry fly and nymph fishing scenarios.
Other essential gear includes a net to land your catch safely, waders and boots for comfortable and dry fishing, and a fly vest or pack to carry your fly boxes, tools, and other accessories. Last but not least, you'll need a selection of flies. Montana's trout feed on a wide range of insects, so a diverse selection of dry flies, nymphs, and streamers in various sizes is a good idea.
Guided Tours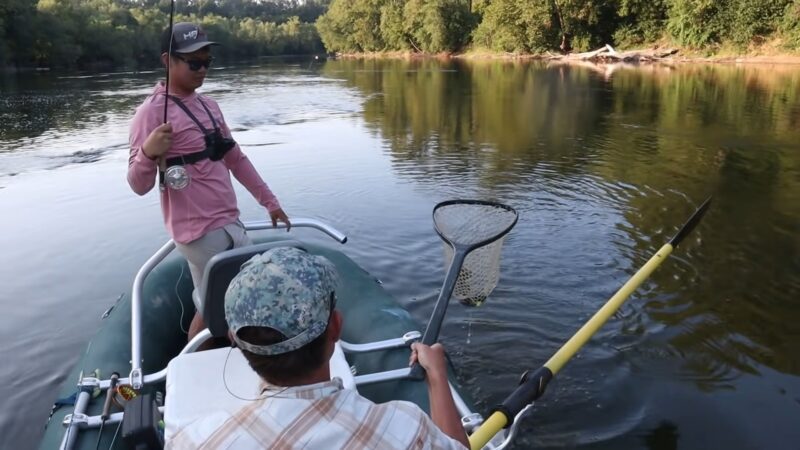 For many anglers, especially those new to these rivers, a guided fly fishing tour can be an excellent way to experience the state's prime fishing. Professional guides bring local knowledge, expertise, and a boat—three things that can significantly enhance your adventure.
Guides not only know where the fish are but also understand their feeding habits and the best techniques and flies to use in any given situation. They can also teach casting techniques, how to read the water, and catch and release practices to ensure the sustainability of Montana's fisheries.
Moreover, guided tours can take you to less-pressured, remote areas that you might not discover on your own. These often provide the most memorable fishing experiences, surrounded by untouched wilderness and the chance to reel in trophy trout.
Conservation and Sustainability
The whole concept of the sport is not just about catching fish—it's also about respecting the rivers and their ecosystems. Conservation and sustainable practices are paramount to ensure that Montana's rivers remain pristine and teeming with fish for future generations.
Anglers are encouraged to follow catch-and-release practices, which help sustain healthy fish populations. Proper handling techniques, like wetting your hands before touching fish and keeping them in the water as much as possible, help ensure their survival upon release.
Organizations like Trout Unlimited and the Montana Fish, Wildlife & Parks department are continually working on conservation initiatives, habitat restoration projects, and educational programs to protect and sustain Montana's fisheries. As anglers, supporting these efforts and following the regulations they set helps maintain the high-quality fishing Montana is renowned for.
Scenic Beauty and Wildlife Encounters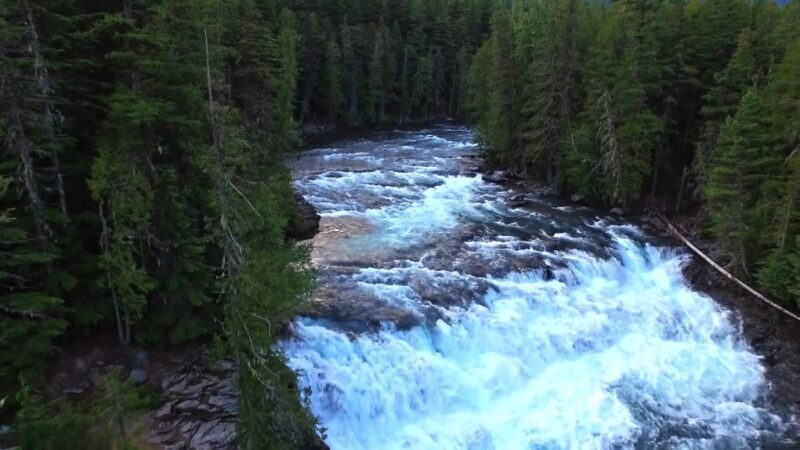 One of the undeniable allurements of fly fishing in Montana is the surrounding natural beauty. The state's rivers meander through diverse landscapes, from high mountain valleys to wide-open plains, each offering a unique backdrop to your fishing experience.
Wildlife encounters are common and add an extra layer of excitement to a day on the water. You might spot a majestic bald eagle soaring overhead, a moose grazing in the riparian vegetation, or even a bear lumbering along the riverbank.
Aside from the wildlife, the quiet, peaceful rhythm of the river and the thrill of casting your line amidst stunning scenery is a transcendent experience that connects you with nature in an intimate way. It's an aspect of fly fishing in Montana that, once experienced, is never forgotten.
Local Culture and Community
Fly fishing is deeply woven into the fabric of the local culture. From small-town fly shops to community fishing derbies, the sport is a binding force that brings people together and fosters a shared appreciation for the state's natural beauty and resources.
Montana hosts several events and gatherings throughout the year, where anglers can learn from each other, share stories, and celebrate their shared passion. Local traditions like the annual caddis hatch celebrations or community river clean-up days reflect the local culture's richness and the deep-rooted respect for the environment.
Furthermore, the state's fly shops and fishing lodges often serve as community hubs, offering not just gear and guide services, but also knowledge, advice, and a warm welcome. They're part of what makes this such a unique and enjoyable experience.
Accessing Montana's Fly Fishing Spots
Public access to fishing spots in Montana is extensive, thanks to state laws ensuring that all water is public and the Stream Access Law allowing public access to rivers and streams up to the high-water mark. Numerous fishing access sites managed by the Montana Fish, Wildlife & Parks department provide public entry to the state's prime fly fishing rivers.
Permits and regulations do apply, though. Anyone aged 12 and over needs a Montana fishing license, which you can purchase online or from licensed providers across the state. Specific rules, such as bag limits, catch-and-release areas, and closed seasons, vary between rivers and should be understood before setting out.
It's also important to respect private property rights. While the Stream Access Law allows for river access, it doesn't permit trespassing on private lands to reach the rivers. Using designated access points and respecting property boundaries is vital to maintaining good relationships with landowners and ensuring ongoing access to these prime fishing areas.
FAQs:
Can fly fishing be combined with other outdoor activities?
Absolutely! Montana offers a wealth of outdoor activities like hiking, camping, wildlife watching, and photography, making it a versatile destination for outdoor enthusiasts.
Are there any special regulations in Montana's national parks?
Each national park in Montana may have specific fishing regulations, and it's important to familiarize yourself with them before fishing.
Can one rent fly fishing gear?
Yes, several fly shops and outfitters in the state offer rental gear for anglers who prefer not to bring their own equipment.
What is the best way to plan a fishing trip to this place?
Researching rivers, consulting with local guides, and considering the desired trout species and seasons are important for planning a successful trip.
Are there lessons or workshops where this sport can be learnt?
Yes, many fly fishing schools, guides, and outfitters offer lessons and workshops catered to beginners and those looking to improve their skills.
Conclusion
Fly fishing in Montana is a captivating blend of sport, art, and connection with nature that draws anglers from around the world. From the rush of reeling in a feisty Rainbow Trout to the tranquility of casting a line in a crystal-clear river amidst stunning scenery, it's an experience that's as rewarding as it is addictive.
As you explore the state's abundant opportunities, you'll understand why this Big Sky Country is truly a premier fly fishing destination. So grab your rod and reel, hit the water, and experience the magic of Montana's rivers. There's a reason they call it the Last Best Place.