Welcome to the enchanting Bigfork, Montana, a haven where time seems to stand still, and every corner exudes irresistible charm. From the first time I saw this town, it captivated my heart. Here, the wild Swan River converges with the majestic Flathead Lake, creating a landscape that whispers stories of untamed beauty.
For me, this town epitomizes the very essence of Montana living an existence that harmoniously blends artistic expression, natural wonders, and a sense of community that warms the soul.
Stepping foot onto its streets, you'll be immersed in a world where old-world charm meets modern-day allure. The town embraces the best of both worlds, offering a plethora of galleries, shops, and recreational opportunities amidst the tranquil embrace of nature.
Once you've experienced its magic, you'll find yourself coming back again and again.
Location and Geography
Bigfork's location in the heart of Flathead Valley offers a stunning panorama that encapsulates Montana's spectacular scenic beauty. Fringed by the Swan Range and Mission Mountains, and located at the northeastern tip of Flathead Lake, it's setting offers an enchanting display of natural splendor.
Flathead Lake, the largest natural freshwater lake in the western United States, sets the stage for a variety of recreational activities and provides a breathtaking backdrop for the town. Its crystal-clear waters mirror the azure skies, while the surrounding mountains paint a canvas of shifting colors with the changing seasons.
Meanwhile, lush forests envelope the town, with their evergreen canopies providing a verdant contrast against the rocky mountain slopes and the serene blue of the lake. Wild, unspoiled, and exquisitely picturesque, the geography of the town is a testament to the majesty of Montana's landscapes.
Outdoor Recreation
Outdoor enthusiasts will find no shortage of activities to embark on in this town. From the calm waters of Flathead Lake to the rugged trails of the surrounding mountains, the town's environs offer an exhilarating playground for all manner of outdoor pursuits.
One of the major attractions is Glacier National Park, often referred to as the "Crown of the Continent." Just an hour's drive from the town, the park offers visitors a chance to explore over a million acres of unspoiled wilderness, alpine meadows, rugged mountains, and pristine lakes.
It's an outdoor enthusiast's paradise, offering opportunities for hiking, camping, and wildlife viewing.
In addition, Flathead Lake provides a venue for water-based activities such as boating, kayaking, and fishing. Whether it's navigating the gentle waves on a paddleboard, embarking on a fishing expedition, or simply enjoying a picnic by the lakeshore, the lake's serene beauty enhances each of these experiences.
Amid these natural wonders, Bigfork serves as an idyllic base camp for any outdoor adventure.
Cultural and Artistic Hub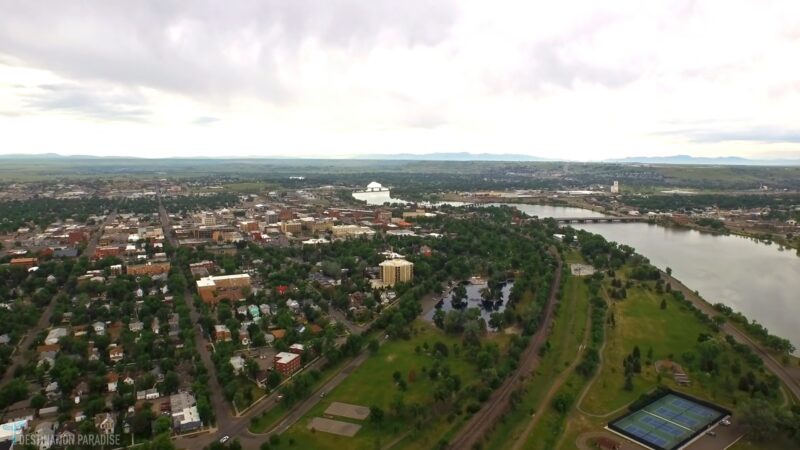 Bigfork's vibrant arts scene pulsates with creativity and expression. The town's cultural pulse is most evident in its numerous art galleries, which showcase a plethora of works from both local and international artists.
Through vibrant paintings, intricate sculptures, and striking photographs, these artists capture the essence of Montana life, with its rich history, diverse wildlife, and scenic landscapes. The town also plays host to a number of annual events that celebrate local arts and culture.
The Bigfork Festival of the Arts, held in August, is a particularly notable event, featuring artists from across the region and offering a wonderful mix of art, food, and entertainment. Adding to the town's cultural allure is the Bigfork Summer Playhouse, fondly referred to as the "Theatre by the Bay."
This professional theatre company stages a variety of performances throughout the year, including Broadway-style shows, musical revues, and children's theatre productions.
Bigfork Village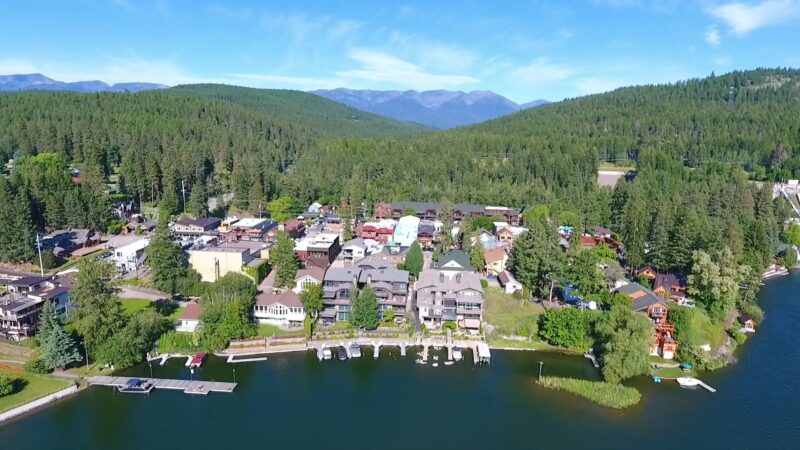 The heart of Bigfork beats within its enchanting village, where quaint boutiques and charming eateries line the picturesque streets. A walk through the village is a step back in time, with its preserved architecture reflecting the town's early 20th-century roots.
Among the unique shops and boutiques, visitors can find a diverse range of items, from handmade crafts and local artwork to antique treasures and Montana souvenirs. Each store in the Village offers a distinct shopping experience that echoes the town's warm, welcoming spirit.
Its culinary scene is equally delightful, with a range of restaurants and cafes offering everything from gourmet meals to casual bites.
Whether it's indulging in a farm-to-table feast, savoring fresh seafood from the lake, or enjoying a hearty breakfast at a cozy cafe, dining in the Village is a delectable adventure unto itself.
Flathead Lake Brewing Company
A cornerstone of Bigfork's community is the Flathead Lake Brewing Company. This local brewery and pubhouse is renowned for crafting an array of exceptional beers, with a keen focus on sustainability and community involvement.
At the heart of their offerings is a diverse selection of craft beers, from crisp and refreshing lagers to robust and flavorful ales. Each brew tells a story, reflecting the character of the local ingredients and the creativity of the brewers. The pub house, with its warm ambiance and stunning views of the lake, provides an ideal setting for enjoying these brews.
Beyond brewing, the company actively participates in community initiatives and environmental conservation efforts. Through their sustainability practices, they aim to protect the natural beauty that surrounds the town and contribute positively to the community they call home.
Swan River Nature Trail
For a tranquil escape within reach of the town center, the Swan River Nature Trail offers a peaceful retreat. This picturesque trail follows the Swan River, allowing hikers and bikers to immerse themselves in the serenity of the surrounding landscapes.
The trail offers an easy and accessible route for all levels of outdoor enthusiasts. Walking along the path, visitors can enjoy stunning views of the river and forest, observe a variety of wildlife, and bask in the quiet allure of nature.
You can always take a leisurely stroll at sunset, a brisk morning jog, or a family picnic by the river – whatever you choose, the Swan River Nature Trail offers a slice of tranquility in the heart of Bigfork.
Summer Playhouse
The Bigfork Summer Playhouse, fondly referred to as the "Theatre by the Bay," is a cultural jewel in the heart of the town. Established in 1960, the playhouse has earned a reputation for producing high-quality, professional theater in the charming lakeside town.
The summer season is particularly vibrant, featuring a rotating repertory of Broadway-style shows performed by talented artists from across the country. From lively musicals to gripping dramas, the playhouse's diverse lineup promises something for every theatre enthusiast.
The playhouse is more than a stage; it's a testament to the cultural richness of Bigfork. It provides a platform for budding artists, enriches the community with diverse theatrical performances, and offers an unforgettable theater experience amid the natural splendor of Montana.
Swan River Kayaking and Rafting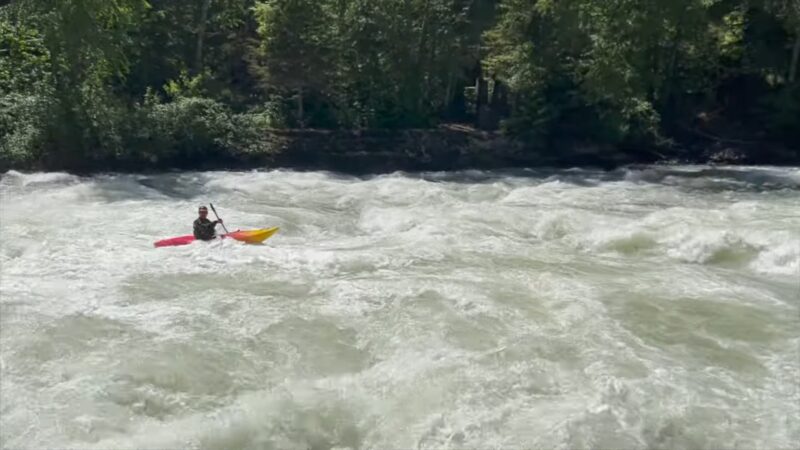 For adrenaline junkies and nature lovers alike, the Swan River offers thrilling adventures in the form of kayaking and rafting. These water-based activities provide an exhilarating way to explore the river's scenic landscapes while adding a dash of adventure to your Bigfork experience.
Several local outfitters offer guided trips that cater to various skill levels. Whether you're navigating the river's gentle currents on a leisurely kayak ride or braving its rapids on a white-water rafting expedition, these adventures promise a healthy dose of fun and excitement.
Despite the thrill, safety is never compromised. Experienced guides ensure that even beginners can enjoy these activities with confidence, making kayaking and rafting on the Swan River a must-try experience when in the town.
Art Galleries and Studios
Thanks to the town's numerous galleries and studios, art thrives in this amazing place . These spaces celebrate the creative spirit of the community, showcasing a diverse array of artworks that span various media and styles.
From contemporary paintings and traditional Native American art to handcrafted jewelry and artisanal pottery, the galleries in the town offer a kaleidoscope of artistic expression. They serve as platforms for both established and emerging artists to showcase their talent and share their unique interpretations of the Montana experience.
Many of these galleries also host workshops and special events, allowing visitors to engage with the arts in a more hands-on way.
Flathead National Forest
Just a stone's throw away from the town lies the vast wilderness of Flathead National Forest. Encompassing over 2.4 million acres, this expansive forested area offers a wealth of recreational opportunities set amid the serene beauty of nature.
Camping under a star-studded Montana sky, hiking through verdant trails lined with towering pines, or spotting a variety of wildlife in their natural habitat – these are just some of the experiences that await in the Flathead National Forest.
The forest's diverse ecosystems are also home to an array of flora and fauna, making it a fascinating destination for nature enthusiasts and biologists alike. In every season, the forest unveils a different facet of its beauty, from the lush greenery of spring to the vibrant hues of autumn.
This ever-changing canvas of nature's magnificence makes the Flathead National Forest a year-round destination for nature lovers and outdoor adventurers.
Fishing on the Swan River
The Swan River, with its clear waters and abundant aquatic life, offers some of the finest fishing in Montana. The river is particularly renowned for its excellent trout fishing, with rainbow trout, brown trout, and brook trout all common catches here.
Several serene spots along the river provide perfect settings for a peaceful day of fishing. Whether you're a seasoned angler or a novice eager to cast your first line, the Swan River offers an idyllic fishing experience. Local outfitters provide guided fishing trips and gear rentals, ensuring a hassle-free fishing adventure.
As the sun sets and the river's surface glistens in the evening light, there's a certain magic to fishing in the Swan River. It's a chance to connect with nature, enjoy the tranquility, and perhaps catch a glimpse of wildlife on the riverbanks.
FAQs:
Are there historical sites to explore in Bigfork?
While the town is known for its natural beauty and arts scene, there are historical sites nearby, such as the Conrad Mansion Museum in Kalispell.
Is it a year-round destination?
Yes, Bigfork has something to offer in every season, making it an attractive year-round destination for outdoor enthusiasts and art lovers alike.
Are there opportunities for wildlife spotting in the town?
Yes, town's natural surroundings provide opportunities to spot wildlife such as eagles, deer, elk, and occasionally even bears.
What are the best times to visit Bigfork?
The best times to visit the town are during the summer and early fall when the weather is pleasant and outdoor activities are abundant.
Can you find vacation rentals or lodging options here?
Yes, the town offers a range of vacation rentals, cabins, lodges, and bed and breakfasts, providing comfortable accommodations for visitors.
Final thoughts
From its picturesque landscapes and vibrant arts scene to its abundant recreational offerings, Bigfork, Montana, is a gem waiting to be discovered.
Whether it's hiking through the wild beauty of Flathead National Forest, kayaking down the thrilling Swan River, or soaking up the local culture in the charming Bigfork Village, this Montana town offers a wealth of experiences that captivate and inspire. Its unique blend of natural beauty, artistic vibrancy, and small-town charm creates an inviting and unforgettable atmosphere.
A visit to the town isn't just a journey to a charming town, it's an exploration of a lifestyle deeply connected to nature, culture, and community.
All in all, my friend, it's time for you to pack your bags, bring along your spirit of adventure, and embark on a journey to discover the enchanting allure of this jewel.