The gem of Montana, Flathead Lake, is the largest natural freshwater lake west of the Mississippi River in the United States. Awe-inspiring and majestic, this spectacle spans nearly 200 square miles, holding an array of secrets beneath its shimmering surface.
Nestled within the verdant embrace of Big Sky Country, the lake is renowned for its crystalline waters and the remarkable wildlife it sustains. With its breathtaking landscapes and tranquil serenity, Flathead Lake beckons the heart of every nature enthusiast.
The Cultural Fabric
Delving into the past, the lake is imbued with a rich tapestry of cultural history. Originally inhabited by the indigenous Salish and Kootenai tribes, Flathead Lake and the surrounding region have long been significant cultural and natural resources.
The lake was named after the Flathead Indians by European explorers. However, it's a misnomer as the tribe didn't practice head-flattening. The name is a result of linguistic confusion among early explorers and has, over time, become an integral part of the region's identity.
| | |
| --- | --- |
| Attribute | Description |
| Location | Montana, United States |
| Size | Largest natural freshwater lake west of the Mississippi in the U.S. |
| Area | Approximately 200 square miles |
| Proximity to other attractions | Glacier National Park, National Bison Range, Whitefish Mountain Resort |
The tribes revered the lake for its abundant fish and used the surrounding areas for hunting, gathering, and spiritual practices. Despite modern encroachments, remnants of these rich traditions persist today, helping maintain a palpable connection to the past.
Intricate tribal art, vibrant powwows, and other cultural events continue to echo the enduring spirit of the Flathead Nation, presenting an evocative panorama of this region's layered history.
A Naturalist's Wonderland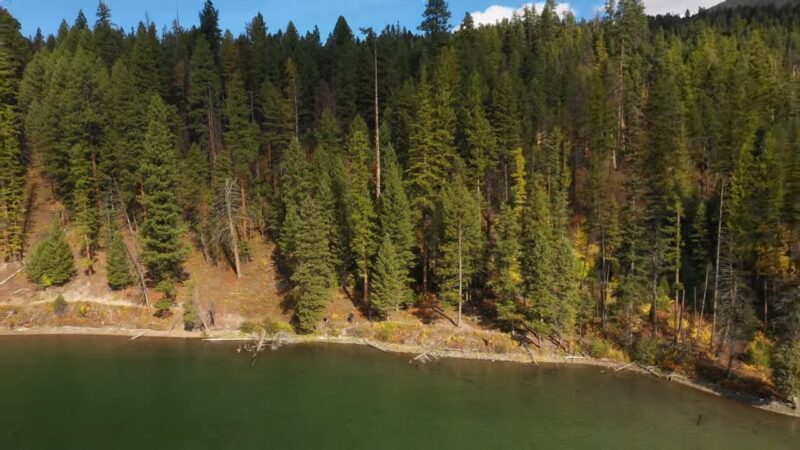 Flathead Lake's biological diversity makes it an exciting destination for naturalists. Home to 25 native fish species, including bull trout, west slope cutthroat trout, and yellow perch, the lake is a dream for fishing enthusiasts.
Moreover, the lake's clean, cold water, originating from the glaciers of the nearby Glacier National Park, provides a conducive habitat for these species.
The surrounding wetlands, meanwhile, offer an oasis for migratory birds and waterfowl, such as the tundra swan and the bald eagle. On the lake's western shoreline, you'll find the unique Flathead Lake State Park – Wild Horse Island, named for the wild horses brought by the Salish-Kootenai tribe.
It is now home to diverse wildlife such as mule deer, bighorn sheep, coyotes, and over 100 bird species. The island park's hiking trails give you a chance to explore this wild paradise. You can amble through ancient Ponderosa pine forests, experience awe-inspiring views, and, if you're lucky, catch a glimpse of the elusive wildlife.
Adventures Await
Flathead Lake's expansive, clear waters make it a hub for a variety of water sports. Take a serene boat tour, or paddle a kayak or canoe through its crystalline water, where the lake floor remains visible even at significant depths. Fishing is a popular pastime, with lake trout, yellow perch, and whitefish as prized catches.
Whether you're an experienced angler or a novice, the lake offers ample opportunities to test your skills. The lake's winds, particularly in the northern area, are perfect for sailing and windsurfing.
For thrill-seekers, wakeboarding and water skiing provide exhilarating ways to enjoy the lake's beauty. And for those seeking serenity, just dip in the calm waters for a refreshing swim or lounge on the sandy beach to soak up Montana's generous summer sun.
| | |
| --- | --- |
| Activity | Details |
| Water Sports | Boating, Kayaking, Canoeing, Windsurfing, Wakeboarding, Water Skiing |
| Fishing | Home to 25 native fish species. Popular for Lake trout, Yellow perch, and Whitefish. |
| Hiking | Especially at Flathead Lake State Park – Wild Horse Island |
| Wildlife Watching | Diverse wildlife such as Mule deer, Bighorn sheep, Coyotes, and over 100 bird species. |
Local Gastronomy
Montana's food culture is an integral part of the Flathead Lake experience. The region is renowned for its Flathead cherries, and cherry orchards line the eastern shore, a picturesque vista that comes alive during harvest in late July and early August.
Local farmers' markets, like the Bigfork Village Market, sell these cherries alongside an array of other locally-sourced produce, from wild huckleberries to hand-crafted cheeses. The markets are a must-visit for anyone eager to savor the region's authentic flavors.
Several eateries around the lake offer fresh catches of the day, often incorporating trout, whitefish, and other local fish in their menus.
Flathead's local craft breweries also serve up unique, refreshing brews to complement the area's flavorful dishes. For the true gastronomes, there's nothing quite like a summer evening barbecue by the lake, cooking your catch of the day while basking in a breathtaking sunset.
| | |
| --- | --- |
| Local Produce | Details |
| Flathead Cherries | Harvested in late July and early August |
| Wild Huckleberries | Available at local farmers' markets |
| Hand-crafted Cheeses | Available at local farmers' markets |
| Freshly-caught Fish | Featured in local eateries |
A Hub of Local Festivals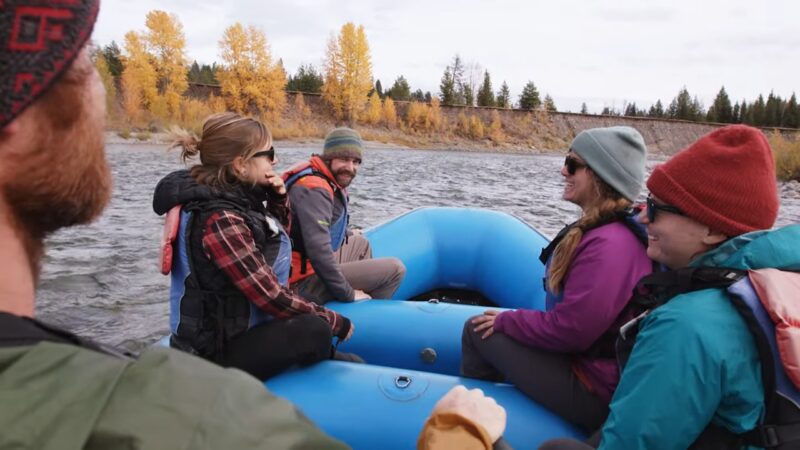 The rhythm of life around Flathead Lake pulsates with a host of community events and festivals. In July, the much-awaited Flathead Cherry Festival in Polson celebrates the cherry harvest with food, music, and family-friendly activities. It's a jubilant expression of the region's agricultural heritage.
The Bigfork Whitewater Festival, held every May, is a thrilling spectacle of kayaking and whitewater rafting that draws outdoor enthusiasts from across the country. It's an event that underscores Flathead's reputation as an adventure destination.
Music aficionados shouldn't miss the annual Riverbend Concerts at the Old Mill in Polson, where the magic of live music fuses with the enchanting backdrop of Flathead Lake.
These vibrant events offer a glimpse into the region's close-knit communities, reflecting the unique blend of natural beauty, cultural heritage, and an active outdoor lifestyle that defines the Flathead Lake region.
| | | |
| --- | --- | --- |
| Event/Festival | Timing | Details |
| Flathead Cherry Festival | July | Celebrates the cherry harvest with food, music, and activities |
| Bigfork Whitewater Festival | May | Kayaking and whitewater rafting event |
| Riverbend Concerts | Annual | Live music concerts at the Old Mill in Polson |
Proximity to Other Wonders
Flathead Lake is an ideal base for exploring some of Montana's other natural treasures. Glacier National Park, a UNESCO World Heritage site known for its breathtaking landscapes, is less than an hour's drive away. Another must-visit is the National Bison Range, a wildlife refuge for one of America's most iconic species, located to the south of the lake.
A self-guided auto tour through the range offers the chance to spot not only bison but also elk, deer, and bear. Whitefish Mountain Resort, located to the north, offers year-round recreational activities.
In winter, it's a skiing and snowboarding haven, while in summer, it transforms into a hub for hiking, zip-lining, and mountain biking. The rich tapestry of experiences that lie within reach of Flathead Lake exemplifies the abundance of Montana's wilderness, adding to the allure of the lake itself.
Sustainable Tourism and Conservation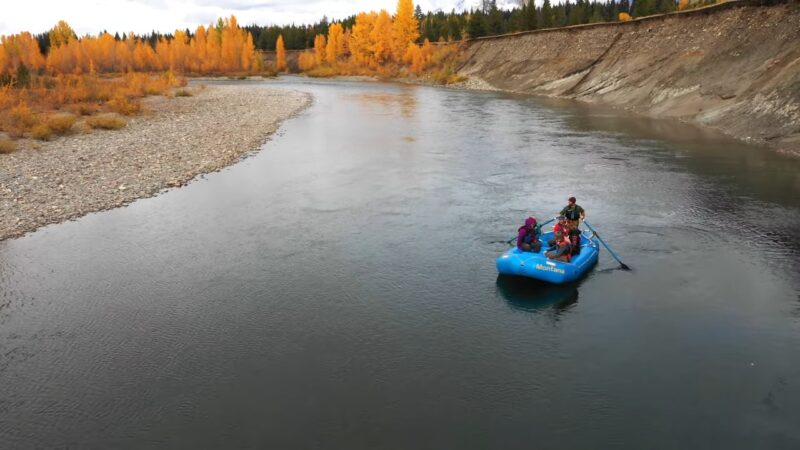 Sustainable tourism and conservation are at the heart of the Flathead Lake experience. Efforts are continually made to balance tourism's economic benefits with preserving the region's natural and cultural heritage. The Flathead Lakers, a local non-profit, spearheads efforts to protect the lake's water quality.
They organize regular clean-up drives, water quality monitoring, and educational programs to foster a community dedicated to the lake's well-being. State and local authorities work hand-in-hand with various organizations to ensure that outdoor activities, including fishing and boating, adhere to regulations designed to preserve the lake's ecosystem.
Anglers, for instance, must adhere to catch and release policies for certain fish species to prevent overfishing.
Travelers can contribute to these efforts by following 'Leave No Trace' principles. This includes proper waste disposal, respecting wildlife, and minimizing the impact on trails and campsites. Your mindful actions can help preserve the magic of Flathead Lake for generations to come.
Unforgettable Sunsets
One of the highlights of any Flathead Lake visit is the mesmerizing sunset. As the day winds down, the sky above the lake becomes a canvas of changing colors, reflecting onto the still waters below. Choose a quiet spot along the shoreline, or float in the middle of the lake on a boat, to witness this daily spectacle.
The sight of the sun dipping behind the surrounding mountains, casting a warm glow across the landscape, is a memory that'll remain etched in your heart. Photographers, especially, will find these moments irresistible. Each sunset offers a unique interplay of light and colors, providing endless inspiration for stunning landscape photography.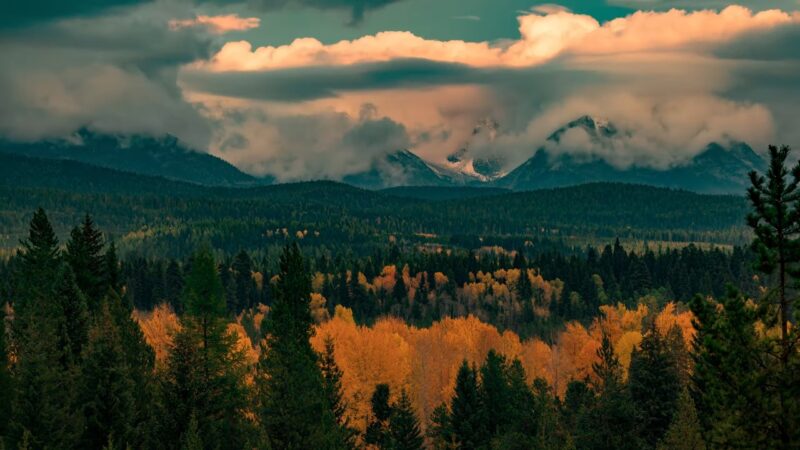 An Accessible Retreat
Accessibility is another of Flathead Lake's assets. The lake is conveniently located, with the city of Kalispell and its Glacier Park International Airport less than an hour's drive away. The surrounding towns of Polson, Bigfork, and Lakeside offer a range of accommodations to suit every budget.
Several campgrounds and RV parks around the lake provide options for those who prefer a more intimate experience with nature. Imagine waking up to the soothing sounds of lapping waves and chirping birds, with a majestic view of the lake just steps away from your tent or RV.
Flathead Lake is also a year-round destination. While summer is the peak season with water sports, fishing, and cherry harvesting, winter brings its own charm. Ice fishing, winter wildlife watching, and the serene beauty of the snow-dusted landscape provide compelling reasons to visit during the colder months.
Closing Thoughts
Flathead Lake is more than just a scenic wonder. It's a living testament to the enduring bond between nature and culture, a hub of adventure and relaxation, and a sanctuary for a fascinating array of wildlife.
Interested in more destinations where you can relax and see the diverse wildlife in person? Visit fcvb.org and discover your next adventure destination.
It offers a rich tapestry of experiences that draw from the grandeur of the landscape, the warmth of the local communities, and the gentle rhythm of lake life. It beckons us to engage with nature in a meaningful, sustainable manner.